FE TRADE CO., LTD
Find us
75-1 Mirokuji, Fujisawa, Kanagawa, Japan
1994年に創業し、カーケア業務用品を国内外のプロ向けに専売するエフイートレード株式会社は、カーディテイリングのプロフェッショナル達に向けた技術指導や施工に関するコンサルティングにも特化しております。日本国内の約18,000社の施工店の内、15,000社と取引があり、取扱商品数は4,000点以上。そのすべてに自社テストを実施する拘りと確かな技術を誇る企業です。施工現場の生の声を最重視し、「仮説-検証」のプロセスを徹底的に繰り返すことで、常に時代を捉えた製品を開発・供給し、マーケットの健全な発展に寄与してきました。
また、RUPESブランドの日本市場参入当初から、RUPESと日本のプロフェッショナルたちを繋ぐ存在として、製品のみならずRUPESの理念を再現しお客様へと届けてまいりました。
トレーニングは、昨今の社会情勢により、本社の専用セミナールームにてオンライン講習を実施しています。画面越しでも細部まで表現できるように明るい空間づくりを心がけた環境を整備し、対面方式と遜色のない講習内容としています。日本のプロフェッショナルたちの拘りとRUPES商品の特性、この両方を熟知した私たちが、最も効果的なトレーニングを提供することをお約束します。
FE TRADE CO., LTD. was founded in 1994 and has sold car care products exclusively to professionals in Japan and overseas. We also specialize in technical support and consulting for auto detailing professionals. We have business with 15,000 detailing shops out of the approx.18,000 shops in Japan and handle more than 4,000 items. We carry out in-house tests on all of them and are proud of our deep knowledge gained by these commitments. By placing the highest priority on the opinions of the detailers and thoroughly repeating the "hypothesis-verification" process, we have always developed and supplied products that fit with the times and contributed to the sound development of the market.
In addition, since the RUPES brand first entered the Japanese market, we have not only introduced the products but also reproduced the philosophy of RUPES and delivered it to our customers as an entity that connects RUPES and Japanese professionals. Due to the recent global situation, training is conducted online in the dedicated seminar room at the head office. We have created a bright environment so that details can be expressed even through the screen, and the content of the course is comparable to the face-to-face sessions. We, who are familiar with both the particular preferences of Japanese professionals and the characteristics of RUPES products, promise to provide the most effective training.
Rupes Authorized Trainer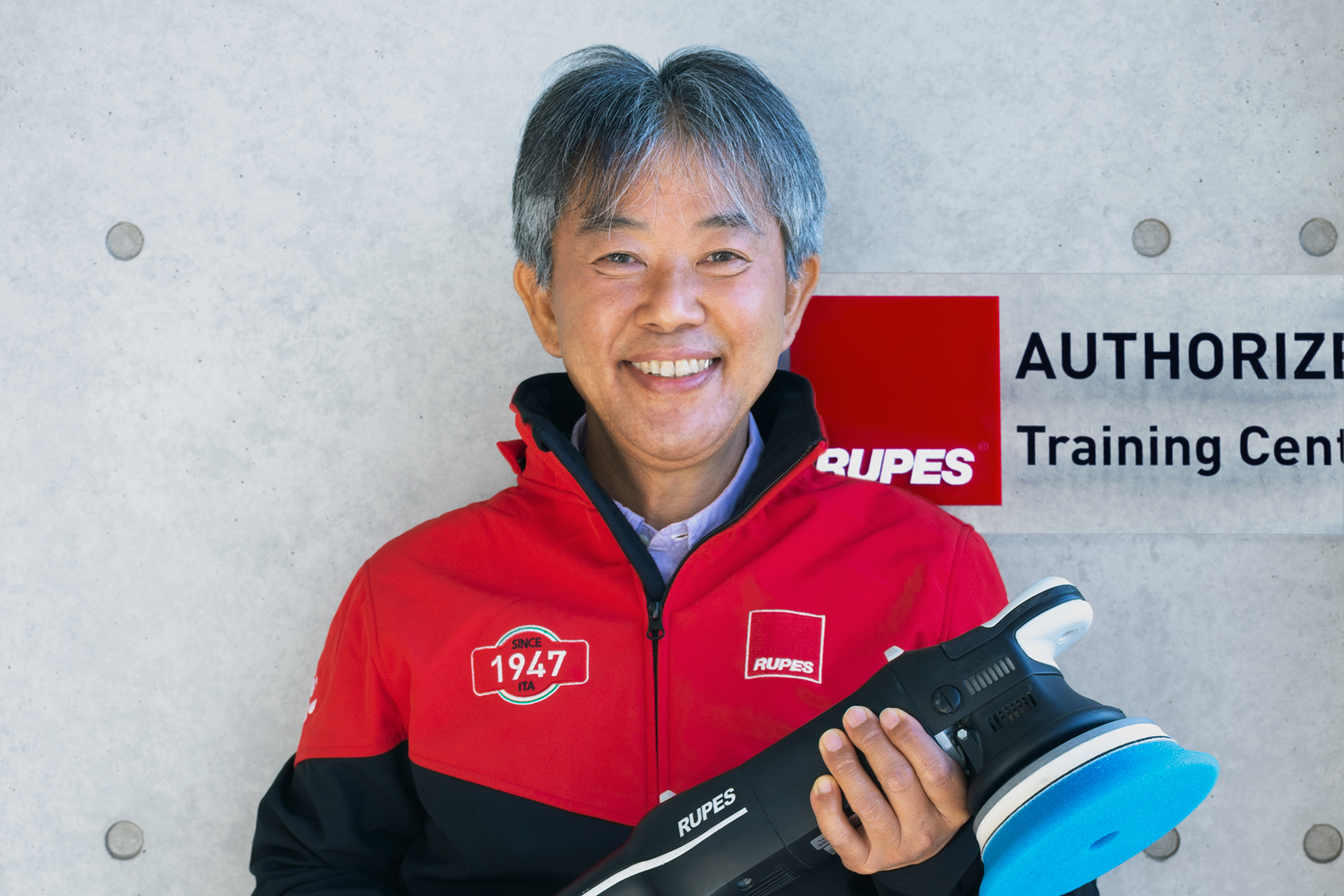 Norio Inamura
1993年に施工店を開業し、コーティング、内装クリーニング、カーフィルム施工など、幅広くカーディテイリングサービス業に携わり、様々なメーカーの新車および中古車の施工を経験することで、あらゆるコンディションに対応できる技術を習得しました。 2007年 エフイートレード株式会社 入社後は、日本全国約15,000社の施工店へ日々技術アドバイスを提供し、来社した海外顧客への研修も担当。RUPES商品専任者として製品の基本的な特徴や使用方法のアドバイスはもちろんのこと商品提案など、きめ細かな対応をしています。これまで培ってきた施工技術とRUPES製品への深い理解を基に、定期開催の講習会や体験会でも技術指導に励み、指導員としても日本屈指の信頼を得ています。

Norio Inamura opened an auto detailing shop in 1993, engaged in a wide range of services such as coating application, interior cleaning, auto film installation, etc. By experiencing the auto detailing of new and used cars of various manufacturers, he acquired skills to handle cars in all conditions. After joining FE TRADE CO., LTD. in 2007, he has been providing technical advice to approx. 15,000 auto detailers nationwide, and is also in charge of training for overseas customers who visited the company. As a RUPES product specialist, he provides detailed support such as product proposals in addition to advice on basic product features and usage. Based on the detailing skills that he has acquired and deep understanding of RUPES products, he strives for technical support at regular seminars and hands-on sessions, and has earned the trust as one of the best trainers in Japan as well.
Gallery